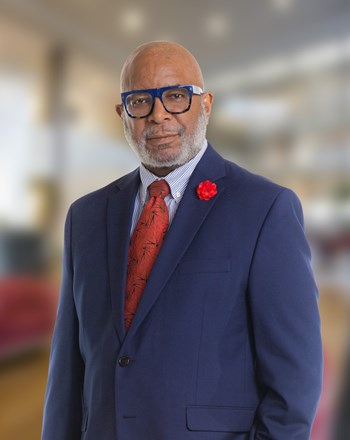 Specialties
Land
Scope of Service Experience
Actively and continuously engaged in the residential and commercial real estate industry since 1988, while progressing from salesperson to Broker/Owner of a successful independent Real Estate Firm. Terry Rogers is skilled at providing innovative strategies and exceptional results in his representation of property owners, investors, tenants and landlords by providing fully-integrated commercial real estate services.
Background & Experience
Terry Rogers holds a Bachelor of Arts Degree in education from Rider University in New Jersey and where he was commissioned as a Reserve Officer in the United States Army Transportation Corp. Prior to relocating to Washington, DC metropolitan area in 1980, he taught school in the Hampton Roads area of Virginia. Immediately upon establishing roots in the Washington, DC area, Terry and family joined the First Baptist Church of Highland Park in Landover, MD where he has raised his 3 beautiful daughters and where they have continuously been active members. As for community service, he holds various memberships and serves on several boards, including, Chairman of the City of Bowie Planning Advisory Board, President of the Greater Bowie Chamber of Commerce, President of the Community Association of South Bowie and member of Rider University Alumni Board of Directors where he chairs the Alumni Awards committee.
Specific experience related to religious and non-profit real estate transactions, within the past 5 years he has been involved with sales and/or leases totaling in excess of 12 million dollars. Notable in these transactions is Ardmore Enterprises, a non-profit, which according to their website was established in Prince George's County, Maryland, and has been empowering people with intellectual and developmental disabilities since 1963. He had the responsibility of marketing and selling their 30,000 square foot facility and assisting them in purchasing a new administrative headquarters.
Associate Broker - NAI Michael - 2015-Present
Broker - Realty Transaction Services, Inc., Bowie, MD - 1998-Present
Sales Person and Associate Broker - Century 21 Home Center, Greenbelt, MD - 1988-1998
Consultant for residential land development and subdivision projects in Prince George's and Anne Arundel Counties, MD.
Professional Associations & Designations
Licensed Real Estate Broker - State of Maryland and District of Columbia
Virginia Broker Candidate
Greater Bowie Chamber of Commerce - President
Bowie Advisory Planning Board - Board Member
Rider University Alumni - Board of Directors
Ernest Everett Just Foundation - Board Member
Prince George's County Association of REALTORS Grievance Committee - Member
Strategic Clients
Lonergan Homes, Inc., Upper Marlboro, MD
Central Data Processing, District Heights, MD
Maryland Land Consulting, Fulton, MD
Friendship Charities Foundation, Inc., District Heights, MD
SoBe Restaurant and Lounge, Lanham, MD (Assisted in Lease negotiation)